3 Ways to Develop Your Leadership Skills in Business School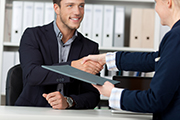 Leadership skills are one of the top skills students hope to develop while in business school. However, what few students consider is how they will develop these very important skills. Contrary to popular belief, you don't just gain leadership skills by showing up to campus on your first day of business school. Focusing on a few key areas during your business school experience will allow you to reach your goals as a future business leader and enhance your career opportunities.
Extra-Curricular Activities
Extra-curricular involvement and club activity is a fun and natural way to develop your leadership skills. Taking a leadership role in a student club can provide you with a great opportunity to lead your peers. Managing the day-to-day infrastructure of a student club can be an excellent way to test out management techniques learned in the classroom and from past professional experiences. Leadership in these extracurricular activities can also provide you with interview fodder during recruiting season. Companies are looking for recruits who possess intangibles—like leadership—to become future leaders in their organizations. Leveraging lessons from your extra-curricular experiences can help you stand out as a strong candidate for potential employers.
Academics
Another key area where you can develop your leadership skills is in the classroom. This is a great opportunity to lead classroom discussions, group projects, and presentations. Again, working with some of the world's best and brightest young business students during your time in business school is great prep for what one can expect in the workplace. Proactively seizing opportunities in and out of the classroom will aid in your development as a leader.
Internships
Internships represent a professional environment to flex your leadership muscles. MBA interns are often given serious responsibilities that involve leading work streams and working with junior staffers. Utilize these opportunities to continue your growth while learning from your more experienced counterparts. In major MBA tracks like management consulting, investment banking, and brand management you can even expect a mentor to help guide you through your internship experience. Leverage these mentors to help you identify areas within your role to lead. Remember, just because you do not have formal leadership responsibilities does not mean leadership opportunities do not exist in your role. Carve out your own path if possible and show your employers that you have what it takes to become a future leader at the firm.
Leadership can exist anywhere. Canvas these categories to ensure you leave school as the business leader you strive to be.
Want to craft a strong application? Start by getting a free profile evaluation with a Veritas Prep expert!
If you liked this article, let Veritas Prep know by clicking Like.