MBA News: Top-Ranked B-School Admissions Dean Tells All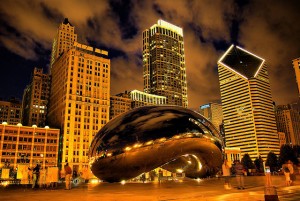 [Photo Credits: Sergey Gabdurakhmanov via Flickr cc]
From an in-depth interview with the dean of admissions at a top-ranked business school to MBA students getting an early start to their academic year—let's dig into the latest news and stories for aspiring business leaders. As usual, leave your comments below and feel free to tweet.
Admissions insight at a top-ranked business school
There are lots of good reasons to consider attending NYU's Stern School of Business, from the high starting salaries of its graduating MBAs to the school's proximity to Wall Street (not to mention New York City restaurants, museums, culture, and nightlife). However, thinking about attending is one thing—actually applying and getting in at this elite business school is another. Check out this eye-opening article with Isser Gallogly, Stern's assistant dean of admissions. Gallogly offers some words of wisdom to applicants who are worried their GMAT score or GPA might limit their shot at acceptance: "I think sometimes people look at averages as a minimum requirement and think that 'If I don't have that number, I'm no good.' I really hope that people don't opt out because maybe they're over-fixating on a factor or maybe looking at it incorrectly." As reassuring as that sounds, it's also worth noting that a Stern MBA doesn't come cheap; Last year, Stern became the first business school to advise its students to budget more than $200K for their time in the two-year program. In case you weren't aware, living in New York City is REALLY expensive. (Poets&Quants)
MBA students get a summer head-start
Classes at top-ranked University of North Carolina Kenan-Flagler Business School didn't officially start until the beginning of August (notice how summer vacation keeps getting shorter?), but new MBA students have been on its Chapel Hill campus for weeks. Kenan-Flagler is one of several MBA programs across the country to offer increasingly popular summer crash courses in areas like math and statistics for students who may not come from a quantitative background. With many business schools recruiting students with experience far beyond finance and accounting, this growing trend is unsurprising. The summer courses also have the added benefit of socializing students earlier on—which prepares them for the team-based work that will characterize most of their time in business school. Most recently, 180 of Kenan-Flagler's 275 first-year MBA students enrolled in the three-week summer program. (The Wall Street Journal)
New business school heroes
Today's MBA students are adding some new names to the traditional canon of business role models and heroes. Yes, Warren Buffett and Steve Jobs still top the list—but increasingly you'll see some lesser known names representing an elite pool of activist investors, including those of Daniel Loeb and William Ackman. While some critics attack these figures as short-sighted opportunists, opinions are gradually changing and new fans are emerging. (Business Insider)
White House focuses on female MBA students
Women make up a slight majority of both the nation's total population and college students—yet they remain a minority at business schools. With the male to female ratio at near parity among law and medical school students. In the male dominated world of business education, a 40% female incoming class is considered a win. Yes, strides are slowly being made. To speed up progress, about 150 schools recently met with officials from the White House. Said the dean of the George Washington School of Business, who attended the meeting, "We often focus so much on our students and the learning experiences, we don't often become introspective and look at ourselves and say, 'are we really practicing what we preach here?'" (Bloomberg Businessweek)
GMAT scores on the rise in Chicago
The University of Chicago's Booth School of Business is reporting that the average GMAT score for its new class of MBA students has reached a new record high of 726, two points higher than last year. That puts them in the 95th percentile of all GMAT takers (yes, that's REALLY impressive). The top-ranked MBA program says the average undergraduate GPA for incoming students this year hovers at 3.59, the same as last year. Nearby Northwestern University's Kellogg School of Management also reported an unusually significant increase in its average GMAT score, rising eight points to 724. (Poets&Quants)
For more breaking MBA news and chatter, follow @KapTestNews. Then put your GMAT prep to the test by answering one of our free daily practice questions.
The post Top-Ranked Business School Admissions Dean Tells All appeared first on Business School Insider.
If you liked this article, let Kaplan GMAT know by clicking Like.