10 Songs To Get You Through B-School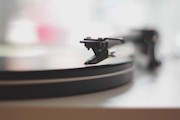 This article is brought to you by Megan Weyrauch, from Uloop, and Kaplan. Search Uloop for student housing, college roommates, sublets, part-time jobs, internships, tutors, and campus news.
It's a dream come true: you were accepted into business school.
Now, it's time to prepare for long nights of studying and preparing for class, high stress levels, a multitude of group discussions and team projects and the realization that pretty soon, you will have the degree you've been striving for.
One of the best ways to get through any difficult time is with music, so I've come up with a playlist to get you through the next few years. Use the following 10 songs to help you navigate through all things b-school.
1) Stronger, by Kanye West
You'll be getting out of bed pretty early each day to go over your notes and prepare for the day, so you will want a song to pump you up and get you excited for the day.
"Stronger" by Kanye West is an awesome pump-up song, full of intricate lyrics and a catchy chorus. Set this song as your alarm and you'll be set for any day full of grueling classes and group work.
Remember, "that that don't kill [you] can only make you stronger!"
2) You've Got a Friend in Me, by Randy Newman
From the classic "Toy Story," this song is a great reminder that you're not alone, regardless of how difficult things seem during your time in business school.
Your cohort will become some of your closest friends as you endure the same trials of b-school together and rely on each other for help navigating the years of your program.
Your fellow students understand what you are going through and will be able to relate when it's midnight and you're still not done preparing for class the next day.
As the song says,
"You got troubles and I got 'em too,
There isn't anything I wouldn't do for you.
We stick together, we can see it through,
'Cause you've got a friend in me."
3) Man in the Mirror, by Michael Jackson
Business school teaches you how to be a leader, and to be a leader, you have to "take a look at yourself and make a change." This famous Michael Jackson song is the perfect reminder of being the change you want to see in the world.
B-school teaches you how to think and how to analyze different problems in new ways. A business degree helps you in all areas of life and as you're learning new ways to problem solve and analyze situations you'll see positive changes in yourself.
4) Survivor, by Destiny's Child
One thing you'll realize as you go through business school: it's a huge time commitment. Whether you knew that it would be going in or you are completely surprised with the workload, the amount of time b-school takes up in your life may be overwhelming.
When you're feeling like you want to throw in the towel, crank up "Survivor" by Destiny's Child and you'll feel like new in no time. An oldie but a goodie, "Survivor" is a song of empowerment that will renew your faith in why you agreed to go through business school in the first place.
Don't give up, don't stop, work harder and you'll make it.
5) Be Prepared, from "The Lion King"
Okay, this one is sort of a stretch but if you imagine that you're Scar and you're planning to take over and rule your class with your knowledge of the day's lesson it totally works. (Just don't really try to take over your class because your professor knows way more than you do.)
In b-school, you'll find that class preparation is huge and you'll spend a lot of your time preparing for group work and to be able to participate in class discussions. This song is great for getting pumped up and keeping you on your toes as you study.
Plus, if you're like me and this song used to scare you as a kid, it will probably keep you up all night, giving you more time to study. You're welcome.
6) It's Tricky, by Run D.M.C.
Make time to work out and hit the gym in business school. If you don't have time to go to the gym, do some jumping jacks and push-ups at home. Your body needs exercise and your stress levels will thank you for the release.
"It's Tricky" by Run D.M.C. is a great old-school hip hop song that will keep you moving regardless of what type of exercise you choose. From lifting weights to jogging around the block or just dancing around your kitchen, make sure to add this song to your playlist.
7) Mr. Brightside, by The Killers
Speaking of stress, when you find yourself stressed beyond belief with assignments and exam anxiety, just blast this song. The upbeat tune and raw angst somehow makes you feel better, especially if you sing the song at the top of your lungs.
Stress will inevitably happen but there are healthy ways to alleviate it, including creating a fantastic playlist and singing and/or dancing along. You'll feel your stress melt away and you'll be able to concentrate and recapture your productivity.
8) The Teamwork Song, from "The Spongebob Movie: Sponge Out of Water"
I don't care how old you are, you will still meet people that do not understand the basic concepts of teamwork. And, in b-school, you'll find that you spend a large percentage of your academic life on group discussions and team projects.
This song will make you laugh for one thing, giving you a little stress relief, and it will also help you remember how to be a functioning member of a team. Remember, "working together is key!"
9) So What, by Miles Davis
If you need a bit of instrumental music while you study (a.k.a, you can't study while listening to music with lyrics) give Miles Davis a try. This classic jazz tune will help you stay focused and alert as you go about your assignments.
10) Centuries, by Fall Out Boy
This is the perfect song to leave you with. This is your goal for after b-school: to become a legend. What you do with your degree is up to you, but make sure you are remembered for it.
In business school, you will face hardships and trials as you would with any other type of higher education institution. But how you handle these trials and what you turn them in to is what truly matters.
Best of luck!
The post 10 Songs To Get You Through Business School appeared first on Business School Insider.
If you liked this article, let Kaplan GMAT know by clicking Like.